TESTIMONIALS
Good evening Ma, I hope you're doing very well. My name is Mirabelle Morah and I admired you today. I should've met you after the TBLF program. I wanted to, but then someone distracted me with a business opportunity for freelance writers and I nearly couldn't resist the offer. When I saw free books being distributed to every participant, I was amazed ma'am. I was really amazed. I said, "This is just too fantastic to be true. Wow! I have to find the author online and say thank you." Then, I looked at the picture behind, looked at you on stage, looked back at the book and asked my neighbor, "Is that the author of this book??" And he said yes. Immediately I got home, I googled your name ma, and I was thoroughly humbled. Harvard? Thistle Praxis? You're the brain behind Thistle Praxis? I'm amazed and totally awed. Last year, I wrote down a dream, to publish a book and go to some secondary schools, sharing the books and talking to the students about certain issues, and today, I saw a real book being shared for free! You must really be a strong and kind-hearted woman. I like how there are pictures in it, makes the pages interesting. Thank you very much ma for sharing your books with us. I'm very grateful. I would love to offer/sponsor literature scholarships/competitions sometime soon, through The Bridge Foundation platform. This will be aimed at literary inclined youths. Some days, I wish I had more free writing competitions to register for. I can offer one to Calabar youths who may be seeking for writing opportunities. And I also feel I would love to do this through The Bridge Foundation as a way of saying thank you, for all the motivation and ideas I've gotten through the yearly summits. I have no means yet to sponsor scholarships, but I've begun planning and working to achieve this. I currently run a website called blankpaperz.com [1] where I publish amazing literary pieces by young, talented unpublished youths, giving them a platform to share works with a wider audience and receive feedback from their audience. Like you said ma, patience, perseverance and hard work are key ingredients. Once again Ma, may God bless you for your book.
,
One of the things I enjoy the most about my role at Inspired by Glory is the amount of personal development events I get to attend. I especially enjoy events where speakers not only share knowledge but also life experiences. A few weeks ago, I attended the Amazing Amazon Breakfast meeting with Ini Onuk. Ini Onuk is the Founder/Group CEO, Thistle Group, an emerging conglomerate made of up business interests in Management Consulting, Gas, Logistics, Research and Media. She is a writer, speaker, trainer and consultant, has authored 3 books, published over 25 articles and book chapters and has delivered more than 100 presentations in over 15 countries in the last 5 years on a range of topics some of which include: Corporate Governance, Change Management, Enterprise Development, Sustainability & CSR. So I am sure you can see why I attended the event. Ini's openness, depth and authenticity was incredibly disarming and I went away with affirmations on previous ideas as well as new perspectives. Here are 5 of my main takeaways from the event:
Prayer and business success are inseparable:
Yeah, so even though this seems pretty obvious, it's always a welcome reminder to see someone practice this and reiterate the importance of prayer not only for business success but general piece of mind.
"I fight on my knees"- Ini Onuk
I love this quote on so many levels. Maybe because it reminds me to focus less on my own strength or maybe its more to do with the position of humility and submission to God even in troubled times. Perhaps its a bit of both. Whichever the case, the merits of this quote have stayed with me.
In all you do keep seeking wisdom
"Father endue in me the spirit of wisdom, let me know when to be angry and when to keep silent"- Ini Onuk
If there was ever a prayer I needed to say repeatedly, it's this one. Most days my mouth moves faster than my brain and words have been said before I have had the chance to think of their consequences. Sometimes its more to do with my pride. I want to show that I cannot be taken for granted, so I let my words cut through like a knife but both parties remain injured and the situation remains unsolved. Another welcome reminder was in the area of reading and continuous development. I'll be honest, towards the end of the year I have been slacking on my reading list. But Ini helped remind me of the importance of personal study not just from books but from working with and for others in my growth trajectory.
"The best kind of learning is the servant kind"- Ini Onuk
Be kind to other women
Now its easy to be kind to women who are kind to you and at the very least completely ignore those who aren't. We also often associate being kind to women within our social circle or class alone.
"Be kind to other women, many women are going through hell. Do not join the bandwagon of those who bring other women down. The woman cleaning your house, be kind to her, because just like you, she too had dreams which didn't include becoming your cleaner"- Ini Onuk
Relationship advice
We were a mix of married and a handful of single women at the meeting, but the advice resonated with both groups.
"Don't depend on your husband. If your husband gave you money to start a business and after two years you are still waiting for him to pay office rent, you've become a handicap. If you want your husband to respect you, don't squander money."
Unlike most relationship conversations which seem to somehow blame women for everrrrrryyyything. Ini spoke more from the emotional relational side of things. Real men know they need help. Men need emotional support. How many of us genuinely, from a deep place have asked our husbands, how they are doing. How often do we consider the happiness of our husbands?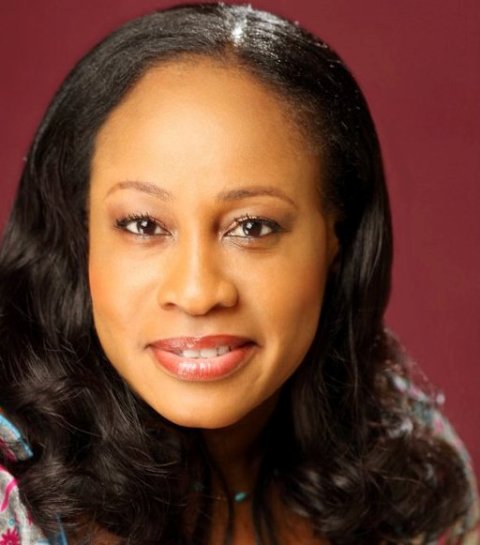 Business lessons
So this wasn't quite the conventional MBA type lesson, but they say the best business lessons are those learnt outside the classroom. According to Ini the four things that have helped her in her business were being uncompromising when it came to truth, loyalty, giving and networking with like minded entrepreneurs. She also shared a few tips on how businesses can survive during tough economic times such as getting an advisory board, cutting down on unnecessary expenditure, increasing the capacity and responsibility of staff, ruthlessly review earnings, overheads and recurrent costs and looking for new avenues of business. A special shout goes to Amazing Amazon imitative for setting up this event! Cant wait for future events! The Inspire Series by Glory Edozien.
The Inspire Series
Glory Edozien,
We have been very impressed by Ini's ability to literally read our minds and deliver a corporate identity that perfectly symbolizes our vision and conveys the stylish, elegant and modern image we needed to sustain our company.Emmanuel EgbuleCEO, Development Standards Technologies
…U won't believe the book Ini Onuk signed she wrote may your fragrance be released, when I read that I got the confirmation I needed, that God was saying I have all it takes I just need to believe in myself…Ms BenCEO, Create Afrique